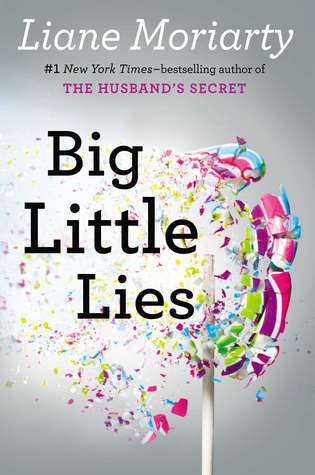 Big Little Lies by Liane Moriarty
Published by Putnam Adult
From the publisher:
Big Little Lies follows three women, each at a crossroads:   Madeline is a force to be reckoned with. She's funny and biting, passionate, she remembers everything and forgives no one. Her ex-husband and his yogi new wife have moved into her beloved beachside community, and their daughter is in the same kindergarten class as Madeline's youngest (how is this possible?). And to top it all off, Madeline's teenage daughter seems to be choosing Madeline's ex-husband over her. (How. Is. This. Possible?).

Celeste is the kind of beautiful woman who makes the world stop and stare. While she may seem a bit flustered at times, who wouldn't be, with those rambunctious twin boys? Now that the boys are starting school, Celeste and her husband look set to become the king and queen of the school parent body. But royalty often comes at a price, and Celeste is grappling with how much more she is willing to pay.

New to town, single mom Jane is so young that another mother mistakes her for the nanny. Jane is sad beyond her years and harbors secret doubts about her son. But why? While Madeline and Celeste soon take Jane under their wing, none of them realizes how the arrival of Jane and her inscrutable little boy will affect them all.
I was so happy when my book club chose this as our October read because I was dying to read it anyway. Liane Moriarty is one of those authors who just gets it. She doesn't write light fiction – she writes books about Big Issues, dressed up in a pretty package to throw you off the scent. But this, my friends, is no fluffy stuff. There are major things happening in this book.
In the beginning of the story, you learn that someone has died at a school function. But you don't know who, or why, or how, only that the police are suspicious that foul play was involved. As the book goes on, the puzzle pieces slowly click into place and you begin to think about what might have happened, who could have died and who might have had something to do with it. But it's not crystal clear until the very end. All of that added up to a very suspenseful novel, besides the fact that the book is filled with all kinds of other drama.
There is domestic violence in Big Little Lies. Moriarty doesn't shy away from the reality of that, from what it feels like to be abused, physically and emotionally, and what it feels like to love that person and want desperately for them to be different. She doesn't shy away from how terrifying it is for a person to know that they are trapped in a situation in which they have zero control, that if a woman leaves her abuser he is more than likely going to find her and hurt her worse than ever, even attempting to kill her. This is not a joke, and Moriarty treats it with the seriousness it deserves. This character needs help, desperately, and as a reader you can't help but get that awful nauseous feeling in your stomach every time these characters have an altercation – it is horrifying and sad and incredibly, terrifyingly, real.
There's so much to love about this book and I don't know quite what else to say. The characters are incredibly well-drawn, the dialogue is spot-on, and the plot moves along at a perfect pace. Moriarty totally gets it and I want to devour everything she's written. She's truly fantastic and you need to read Big Little Lies.