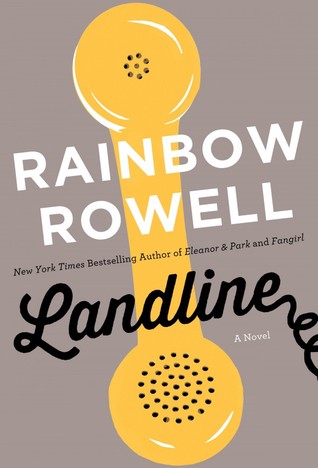 Landline by Rainbow Rowell
Published by St. Martin's Press
From the publisher:

Georgie McCool knows her marriage is in trouble. That it's been in trouble for a long time. She still loves her husband, Neal, and Neal still loves her, deeply — but that almost seems beside the point now.

Maybe that was always beside the point.

Two days before they're supposed to visit Neal's family in Omaha for Christmas, Georgie tells Neal that she can't go. She's a TV writer, and something's come up on her show; she has to stay in Los Angeles. She knows that Neal will be upset with her — Neal is always a little upset with Georgie — but she doesn't expect for him to pack up the kids and go home without her.

When her husband and the kids leave for the airport, Georgie wonders if she's finally done it. If she's ruined everything.

That night, Georgie discovers a way to communicate with Neal in the past. It's not time travel, not exactly, but she feels like she's been given an opportunity to fix her marriage before it starts . . .

Is that what she's supposed to do?

Or would Georgie and Neal be better off if their marriage never happened
Don't you hate it when you read a book by a favorite author and the book isn't OMG AMAZING like you think all of that author's books should be? Well … this was the case for me with Landline. What's annoying is that I feel like if another author had written this same book I might have thought more highly of it … but since I have such high expectations for Rowell, it fell a little flat for me.
The main issue I had with the novel is that I plain didn't like Neal, and I didn't see the love between the two of them at all, not once in the entire novel. Even when Rowell is showing the reader the younger Neal, the Neal Georgie fell in love with all those years ago, I didn't get it. He was just … there … and I don't know if maybe Georgie liked that about him, that he was the polar opposite of Seth, the polar opposite of the kinds of people she worked with and was friends with and maybe had been with in the past, or what, but I personally didn't get it.
The things that Rowell excels at are still here, though, for the most part. Smart, zippy dialogue. A main character that doesn't have it all figured out but is certainly trying (while my feeling for Neal weren't great, I LOVED Georgie). Family dynamics that are complicated, interesting, and funny. I did like a lot of elements of the book, truly I did. I just think, overall, it wasn't quite up to her usual standards.
I loved how the book ended, though. Regardless of my feelings about Neal, he's still the one Georgie chose to marry all those years ago, and ultimately I feel like the book was her coming to terms with the fact that marriage is a choice, you choose to be with someone every day, and she actually decided in the end to make a real choice about her marriage and her life. I felt like she finally understood that she couldn't just sit back and let life happen to her, she couldn't just hope that she and Neal would work out, that she had to actively work on her marriage and herself if she wanted to be happy. I feel like that's the message here and it's a good, very important one. So good on you, Rowell, for that.
Overall, Landline is my least favorite of Rowell's novels but still one to consider. And I think I would have liked it more if my expectations weren't so darn high. Oh well.