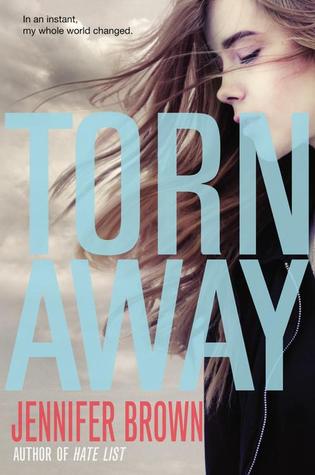 Torn Away by Jennifer Brown
Published by Little, Brown Books for Young Readers
Review copy provided by the publisher via NetGalley
From the publisher:
Jersey Cameron has always loved a good storm. Watching the clouds roll in and the wind pick up. Smelling the electricity in the air. Dancing barefoot in the rain. She lives in the Midwest, after all, where the weather is sure to keep you guessing. Jersey knows what to do when the tornado sirens sound. But she never could have prepared for this.

When her town is devastated by a tornado, Jersey loses everything. As she struggles to overcome her grief, she's sent to live with relatives she hardly knows-family who might as well be strangers. In an unfamiliar place, can Jersey discover that even on the darkest of days, there are some things no tornado can destroy?
I was a huge fan of Jennifer Brown's first two novels for teens, Hate List and Bitter End, but she's written several since that I haven't read, so I was excited to dive back into her work with Torn Away. Let me tell you, this book left me an emotional wreck. From beginning to end, I held Jersey close to my heart and what happens to her in this novel is beyond devastating. I read this book in one sitting and I pretty much sobbed throughout the entire second half.
The thing about Torn Away is that the book starts with this tornado, almost from the very first page. The reader gets to know about Jersey's life before the tornado through flashbacks and her describing things for the reader – so really, the whole book is just Jersey and what she's going through, you don't have much time to get to know other characters. So it's next to impossible NOT to let this one character take over the reader's whole heart as the story goes on.
What happens to Jersey is beyond heartbreaking. Not only does she lose her family, home, friends, everything to this tornado, but the one person left in her life (her stepfather) ends up sending her away to her biological father's family – a family she's never even met, let alone is close enough to where she'd want to live with them. This family is AWFUL. I cried the entire way through Jersey's time with these people, I just could not get how it was possible to treat another person, your FAMILY member at that, so horribly. 
Oh, and about Jersey's stepfather? Yes, he lost everything too, but my goodness what a selfish man he was. It was just truly sad to read how he basically refused to take care of her and passed her off to whoever would take her. So, so sad. 
Ultimately Jersey does end up with people who love her and her story is one of hope and resilience against the most difficult of odds. I was satisfied with the ending, after feeling so deeply for Jersey I was desperate for her to find the love and home she needed. This is an emotionally difficult read, but it's so worth it. Jersey will crawl into your heart and stay there, and she's not a character I'll soon forget. Highly recommended.