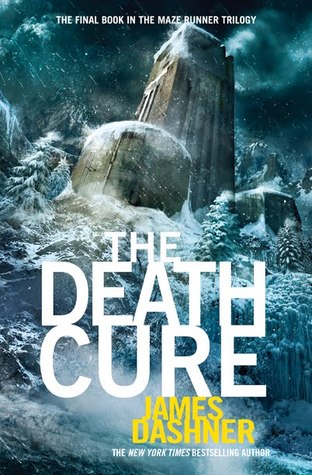 The Death Cure by James Dashner
Published by Delacorte Books for Young Readers
This third book in The Maze Runner trilogy was, thankfully, a good conclusion to the series. After severely disliking the second book, I was nervous to pick up The Death Cure, but luckily for me Dashner turned it around and I was pleasantly surprised by the final installment. What made me happiest about this novel is that, for the most part, answers about this world and why things are the way they are were provided. Also, several of the relationships between characters were solidified to my satisfaction. It's difficult to review a third book in a series for fear of spoiling the other two books, so I won't say much else. But the ending was interesting – I thought things were all tied up, but when I was talking to a friend about it, she thought something completely different, which would have meant that Dashner ended the whole thing with an ambiguous twist. So I'm still puzzling over that. Thoughts from those of you who have read the series? Email me if you want!
Neverwhere by Neil Gaiman
Published by William Morrow Paperbacks
This paranormal fantasy stuff isn't usually my thing, but I'll read just about anything for one of my book clubs, so here we are. Hmm. What to say about Neverwhere? I don't know that I appreciated it as much as I should have. I feel like Neil Gaiman is this epic author, a guy who has tons of fans and millions of people absolutely adore his books and think he's a genius, yet I don't know that I necessarily got what was so special about this novel. Sure, I am overwhelmed by the creativity at work here. This is an entirely new world Gaiman dreamed up and communicated to the reader in amazing detail in just one novel – a pretty incredible feat, in my opinion. I was invested in the main character's fate and very intrigued by the world Gaiman created. While I was entertained while reading Neverwhere, I never had the experience that I just could not put the book down. I liked this book, it was different from what I usually read and therefore a fun departure from that, but not much else. It wasn't earth-shattering by any means, at least not for me. What else should I read by Gaiman to get a full picture of his brilliance? Because, sadly, Neverwhere didn't exactly convince me.