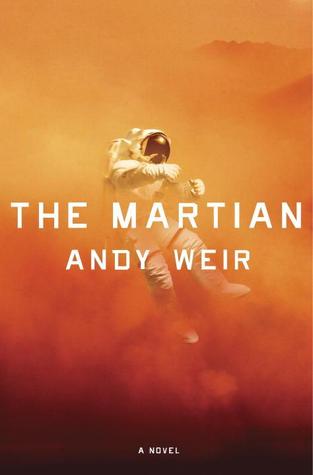 The Martian by Andy Weir
Published by Crown
If you're not familiar with The Martian, you must have been living under a rock these past few months. EVERYONE has been raving about this book and I now understand why. Basically, it's about this guy, Mark Watney, whose mission to Mars was aborted after a huge sandstorm occurred, which caused his crew to believe he died, so they had to leave him there. Except he didn't die, so he has to figure out how to survive on Mars all by himself for quite a long time. While the scienc-y stuff wasn't the easiest for me to navigate, the technicalities of it aren't necessary for understanding the novel, so I was able to skim a lot of those parts. And there's a point at which NASA figures out Mark is still alive, and that's when the book really picks up speed and goes from interesting/good to great. Mark is hilarious, super sarcastic and totally makes the novel. I really enjoyed this one and I totally see what all the fuss is about.
Believers: A Journey Into Evangelical America by Jeffrey L. Sheler
Published by Viking Adult
I don't really know why I read this book. I guess it's because I can't resist any kind of book about any kind of faith, and I'm even more intrigued when I see a different perspective on my own faith than my perspective (which is kind of the case with Believers). The book was mostly good, well-researched, but I'm uncertain as to what exactly Sheler's point was. I guess he wanted to figure out what Evangelical Christians are all about? It seemed to me like he was looking for generalizations, looking to find out what exactly motivates and inspires and pushes Evangelicals but what he discovered, instead, is that (shocker) Evangelical Christians are a diverse group with tons of different kinds of people in the mix. The conclusion kind of felt like he was saying "gosh, Evangelicals are people too. I didn't expect that." But I liked learning more about groups of Christians I was somewhat unfamiliar with – Wheaton College scholars, Focus on the Family (not personally a fan, but interesting to learn more about them nonetheless), Saddleback Church (where my in-laws are members, actually), and more. So, overall, interesting to me but not particularly enlightening.
The Lonely Polygamist by Bradley Udall
Published by W. W. Norton and Company
I really did not like this book. I started reading it in audio but it was SO LONG and taking forever that I read the second half in print, and I didn't enjoy the novel in either format. The book is about (obviously) a polygamist named Golden Richards, who has four wives and twenty-eight children. It's told from three alternating points of view: Golden's, his fourth wife, Trish's, and one of his sons, Rusty's. Despite the complicated family dynamics and tons of tragedy and even some comedy, I just did not get why I'd heard such great things about this novel. It seemed monotonous, over dramatic, and mostly the people within its pages were just plain miserable. And while the ending was heartbreaking, because I couldn't bring myself to care about these characters, I wasn't too emotionally affected by it. I don't know – this one just wasn't my thing.