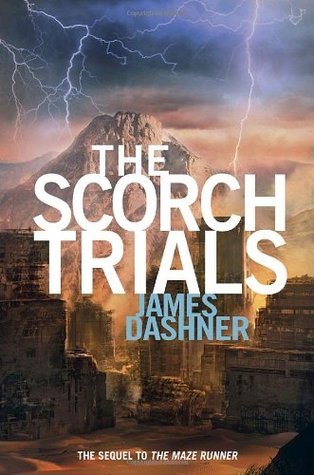 The Scorch Trials by James Dashner
Published by Delacorte Press
From the publisher:
Solving the Maze was supposed to be the end.

Thomas was sure that escape from the Maze would mean freedom for him and the Gladers. But WICKED isn't done yet. Phase Two has just begun. The Scorch.

There are no rules. There is no help. You either make it or you die.

The Gladers have two weeks to cross through the Scorch—the most burned-out section of the world. And WICKED has made sure to adjust the variables and stack the odds against them.

Friendships will be tested. Loyalties will be broken. All bets are off.

There are others now. Their survival depends on the Gladers' destruction—and they're determined to survive.
I really liked The Maze Runner but this one? Not so much. Allow me to start with what I did like – the book is almost impossible to put down. There is SO much going on, one thing right after another, you can't possibly stop at even a chapter break. There is always the hope that after the next obstacle the boys face, new information will be obtained. Something in this crazy world will start to make sense. The new characters that they meet in the Scorch will illuminate something for them. One can only hope.
Unfortunately, I felt like this didn't happen. It felt, to me, like the author threw a bunch more challenges and setbacks and obstacles at the characters and the story just didn't move along enough. It was all action and no information – and by the second book in a series, I want some more information. I don't like feeling THIS in the dark about what's really going on in a world.
I liked the addition of some new characters, and the complexities added to some of the existing characters' personalities (Teresa, specifically), but I still wasn't clear on who these new characters actually are – do they work for WICKED? Do they actually have the Flare? What the heck, Dashner?
I guess for some readers the not knowing is part of the fun of the series. But for me, by the end of book two, the complete lack of information got old. I wanted some answers, and I wanted them right then and there. Guess I'll have to read the third book to (hopefully) get those answers!