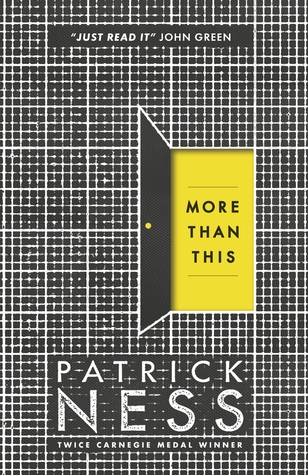 More Than This by Patrick Ness
Published by Walker Books Ltd
From the publisher:
A boy drowns, desperate and alone in his final moments. He dies.

Then he wakes, naked and bruised and thirsty, but alive.

How can this be? And what is this strange deserted place?

As he struggles to understand what is happening, the boy dares to hope. Might this not be the end? Might there be more to this life, or perhaps this afterlife?

From multi-award-winning Patrick Ness comes one of the most provocative and moving novels of our time.
Who here loved the Chaos Walking trilogy and has been dying for something else from Ness that has that similar feel? *raises hand*
Well, you are in luck because More Than This is that book. This is a gorgeous novel about stuff that I don't even want to tell you because that will just spoil it. But I will tell you that it has that same sense of urgency, that same OMG SOMETHING BAD WILL HAPPEN feeling that runs through the entire Chaos Walking trilogy. Like all Patrick Ness books, this book is saying something, and by the end of the novel you will get it loud and clear. But to explain what, exactly, is happening here would ruin the experience. So I won't.
Ness writes in such a way that causes the reader to truly feel the emotions the characters are feeling. He causes the reader to question his/her own life – how what we think and feel is filtered through our own limited experiences and how our memories are shaped not just by what happened but by the emotions we associate with those events. And he makes the reader wonder – how would we react and respond to a situation the characters in this book are faced with? Would we do the right thing or would we panic, save ourselves, and make choices with devastating consequences?
Please read this book. It is truly fantastic.