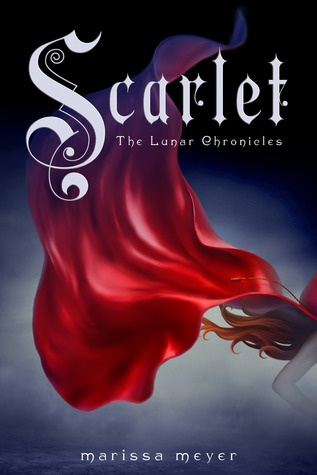 Scarlet by Marissa Meyer
Published by Feiwel and Friends
From the publisher:
Cinder, the cyborg mechanic, returns in the second thrilling installment of the bestselling Lunar Chronicles. She's trying to break out of prison–even though if she succeeds, she'll be the Commonwealth's most wanted fugitive. Halfway around the world, Scarlet Benoit's grandmother is missing. It turns out there are many things Scarlet doesn't know about her grandmother or the grave danger she has lived in her whole life. When Scarlet encounters Wolf, a street fighter who may have information as to her grandmother's whereabouts, she is loath to trust this stranger, but is inexplicably drawn to him, and he to her. As Scarlet and Wolf unravel one mystery, they encounter another when they meet Cinder. Now, all of them must stay one step ahead of the vicious Lunar Queen Levana, who will do anything for the handsome Prince Kai to become her husband, her king, her prisoner.
I'm not sure how I feel about this series overall. Let me start by saying that I liked the first book, Cinder, but upon finishing it I totally forgot almost the whole thing. Which should tell you that maybe I didn't like it as much as I thought I did? The fact that I barely remembered the events in the first book led me to take forever to get to this one, and it was rough in the beginning because of said lack of knowledge about events in the first book. Once I got into the vibe of Scarlet, and realized there are two storylines here, two main characters to root for, I got sucked in and really started to enjoy it.
Scarlet as a character interested me slightly more than Cinder had, she just seemed a little less naive and a slightly more of a kick-butt, sure of herself heroine. Although there are apparently tons of things neither of them understands or knows about, as they individually learn over the course of the novel. I liked the dual storylines because it kept me invested in both girls – just when one was getting kind of crazy, Meyer would switch over to the other girl, keeping me flipping pages, anxious to get back to that crazy part in the other girl's life. It was a good storytelling device and I hope she uses it in the rest of the series.
But I don't know – although the novel was certainly entertaining, I think these books are somewhat silly and now that I've finished book number two I can't say I'm anxious to get to book number three, Cress. It's like – I enjoyed it while reading but now that I finished the book, I'm kind of over it. I think someone would have to tell me that they get even better with the third installment for me to be interested in picking it up. Thoughts?