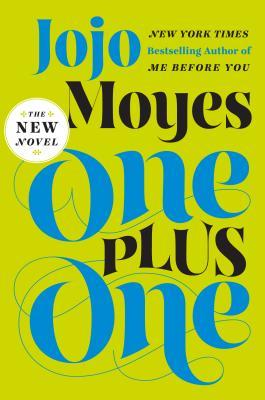 One Plus One by Jojo Moyes
Published by Pamela Dorman Books
Review copy provided by Netgalley
From the publisher:
Suppose your life sucks. A lot. Your husband has done a vanishing act, your teenage stepson is being bullied and your math whiz daughter has a once-in-a-lifetime opportunity that you can't afford to pay for. That's Jess's life in a nutshell—until an unexpected knight-in-shining-armor offers to rescue them. Only Jess's knight turns out to be Geeky Ed, the obnoxious tech millionaire whose vacation home she happens to clean. But Ed has big problems of his own, and driving the dysfunctional family to the Math Olympiad feels like his first unselfish act in ages . . . maybe ever.

One Plus One is Jojo Moyes at her astounding best. You'll laugh, you'll weep, and when you flip the last page, you'll want to start all over again.
This is my third time reading a Jojo Moyes novel (but I do want to read her backlist, I swear) and every time I read one of her books, I'm in awe of her remarkable talent. I literally can NOT stop reading once I've started one of her novels. I don't know what her magic is, exactly, just that she creates characters and situations and dialogue and relationships that are so incredibly easy to relate to and everything just clicks for me.
One Plus One is no different. I loved Jess and I couldn't help but admire her tenacity and positive spirit, her belief that good people eventually get good things, and that if you just work hard, it will (some day) pay off. I wished she had been a little less naive about her husband – but it did match her personality, because if he'd been a bad person, he would eventually get what's coming to him, right? In the meantime, she focused on what she could control – and that was being good to him and keeping things together for the children.
Enter Ed – a guy with issues of his own, a selfish person who has lived most of his life thinking only of himself. But for some reason, meeting Jess inspires him to act outside of himself for once and his inner nice guy rises to the surface. I liked Ed, too, but he frustrated me a bit, as he was naive about his own problems and had a lot of trouble taking ownership for the things he created in his own life. Still, it was enjoyable to see him finding his way and growing up emotionally to face the punishment that he rightfully deserved.
The story of how this unlikely pair, along with Jess's two kids and dog, take a crazy road trip to Scotland is one you just have to experience to understand its beauty. Moyes is just as fantastic as ever and I absolutely loved this novel. Highly, highly recommended.