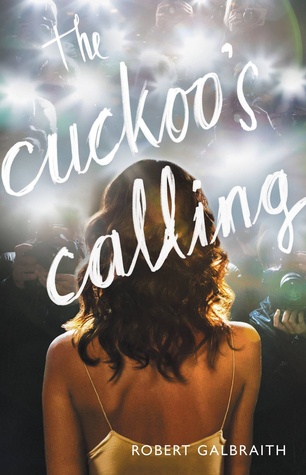 The Cuckoo's Calling by Robert Galbraith
Published by Mulholland Books
From the publisher:
After losing his leg to a land mine in Afghanistan, Cormoran Strike is barely scraping by as a private investigator. Strike is down to one client, and creditors are calling. He has also just broken up with his longtime girlfriend and is living in his office.

Then John Bristow walks through his door with an amazing story: His sister, the legendary supermodel Lula Landry, known to her friends as the Cuckoo, famously fell to her death a few months earlier. The police ruled it a suicide, but John refuses to believe that. The case plunges Strike into the world of multimillionaire beauties, rock-star boyfriends, and desperate designers, and it introduces him to every variety of pleasure, enticement, seduction, and delusion known to man.

You may think you know detectives, but you've never met one quite like Strike. You may think you know about the wealthy and famous, but you've never seen them under an investigation like this.
I'm one of those people who only considered reading The Cuckoo's Calling once it was revealed that Robert Galbraith is actually a pseudonym for J.K. Rowling. I am also one of those people who MUST read everything Rowling writes, so there you go – obviously at some point, I had to get to reading this book. And I'm incredibly happy that I did, because although it might be my bias that leads me to believe J.K. Rowling can do no wrong, she solidified that once again with this fantastic and wonderfully written mystery.
Despite everything that is unfortunate about Strike, I couldn't help finding him incredibly endearing. His life is just SO depressing, and yet he continues to put his blinders on and never really deals with the real issues in front of him. The fact that Bristow asked him to take this case is a complete miracle and exactly the thing he needed to get his mind off all of his failings and faults – so the fact that he ran into the opportunity full steam ahead was something I absolutely loved. I read someone (can't remember who, tell me if it's you!) compare him to a smaller in size, non-magical Hagrid, and oh my goodness I can totally see this and I love the comparison. He's just so unappealing as to make himself appeal to me – does that make sense?
I also loved Robin, Srike's temporary assistant, who over time grew just as invested in the murder as Strike did. I actually thought her character could have been used a little more to further the story and so I'm excited to see where Galbraith takes her in the next installment of this series.
Murder mysteries aren't totally my thing, although I do enjoy the ones I read, so I don't have the experience to be very critical of the specifics of the plot in The Cuckoo's Calling, but I will say that I thought it was well done. Maybe I'm naive, but I definitely didn't see the ending coming, but I do think, looking back, that the clues were placed in such a way that it was possible to guess the killer, which I think is kind of the point of these kinds of books. Although maybe I'm wrong about that? You can see my unfamiliarity with this kind of read – but whatever, I really loved where the book went and I was kept on my toes the entire time.
Where Rowling always shines, and continues to do so in The Cuckoo's Calling, is her incredible writing and great characters. As always, her writing is super descriptive, to the point that I can picture characters, scenes, and events in my mind with crystal clarity. And as I've already said, I found these characters incredibly interesting and well-drawn. I couldn't put this book down and I'm anxious to read The Silkworm, the next book in the series. No matter what name Rowling writes under, her talent truly shone through here for me and I'm so glad I got to discover another batch of her excellent characters with this novel!