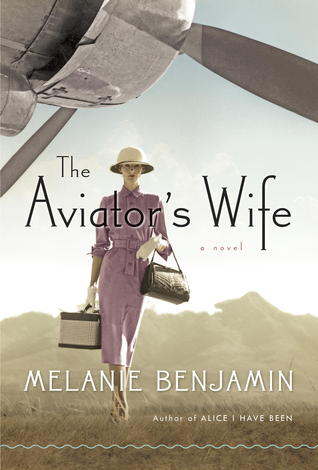 The Aviator's Wife by Melanie Benjamin
Published by Delacorte Press
Review copy received at SIBA 2012
From the publisher:
For much of her life, Anne Morrow, the shy daughter of the U.S. ambassador to Mexico, has stood in the shadows of those around her, including her millionaire father and vibrant older sister, who often steals the spotlight. Then Anne, a college senior with hidden literary aspirations, travels to Mexico City to spend Christmas with her family. There she meets Colonel Charles Lindbergh, fresh off his celebrated 1927 solo flight across the Atlantic. Enthralled by Charles's assurance and fame, Anne is certain the celebrated aviator has scarcely noticed her. But she is wrong.

Charles sees in Anne a kindred spirit, a fellow adventurer, and her world will be changed forever. The two marry in a headline-making wedding. Hounded by adoring crowds and hunted by an insatiable press, Charles shields himself and his new bride from prying eyes, leaving Anne to feel her life falling back into the shadows. In the years that follow, despite her own major achievements—she becomes the first licensed female glider pilot in the United States—Anne is viewed merely as the aviator's wife. The fairy-tale life she once longed for will bring heartbreak and hardships, ultimately pushing her to reconcile her need for love and her desire for independence, and to embrace, at last, life's infinite possibilities for change and happiness.
There has been a recent trend in books over the past several years of historical fiction featuring the wives of prominent historical figures, and The Aviator's Wife is one more shining example of how fun that trend can be. Truthfully, I didn't know much about Charles Lindbergh before picking up this novel (just that he was a famous aviator who broke some records and that his baby was kidnapped), but now I not only know a ton about Lindbergh, but I feel that I intimately understand his life as seen through the (fictionalized version) eyes of his wife, Anne.
I got deeply involved with this book from the first page. I was drawn to Anne immediately – although she'd always been seen as secondary to her beautiful and popular older sister, I liked her intelligence, her ability to see people for their true selves, and her adventurous spirit, which are three qualities that drew Lindbergh to her as well. From their first meeting, Anne and Charles are like two peas in a pod, they can trust no one else and although their lives are scrutinized by the press and they are stalked constantly by the paparazzi, they find solace in each other and are able to escape from the craziness only when it is just the two of them alone in the air together. I loved the way their relationship would change, especially in the early years, when they were flying together – it was this thing that they shared and that no one could take away from them.
Unfortunately, their marriage was rocky and Charles wasn't necessarily the nicest person to be around. He was moody, dark, and didn't always share his thoughts and feelings with Anne. And what he did share, oftentimes were simply commands, things that she was expected to do as his wife, no arguments allowed. Benjamin illuminated for the reader both the highs and the lows of their marriage and, despite everything, showed that in the end there was a fierce love shared between the two of them even when Anne finally found the independence she so fought for throughout her marriage and her life.
I really enjoyed this book and have to say that I appreciated the mix between history and fiction that Benjamin brought to it. I loved learning about the Lindberghs and Benjamin told their story in a compelling and entertaining way. Anne Lindbergh's life was incredibly sad at times, as she dealt with the debilitating loss of a child and a controlling, sometimes cruel husband, but she also deeply loved her husband and children and created a true legacy of her own as a female aviator. I highly recommend The Aviator's Wife as an excellent piece of historical fiction.