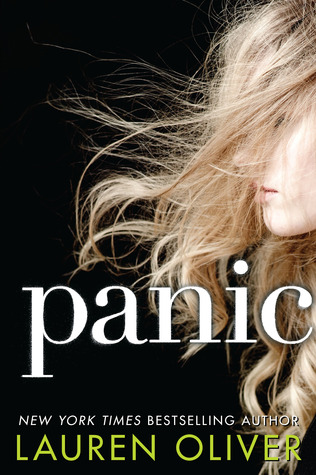 Panic by Lauren Oliver
Published by HarperCollins
From the publisher:
Panic began as so many things do in Carp, a dead-end town of 12,000 people in the middle of nowhere: because it was summer, and there was nothing else to do.

Heather never thought she would compete in Panic, a legendary game played by graduating seniors, where the stakes are high and the payoff is even higher. She'd never thought of herself as fearless, the kind of person who would fight to stand out. But when she finds something, and someone, to fight for, she will discover that she is braver than she ever thought.

Dodge has never been afraid of Panic. His secret will fuel him, and get him all the way through the game, he's sure of it. But what he doesn't know is that he's not the only one with a secret. Everyone has something to play for.

For Heather and Dodge, the game will bring new alliances, unexpected revelations, and the possibility of first love for each of them—and the knowledge that sometimes the very things we fear are those we need the most.
Lauren Oliver is such a phenomenal author that I knew I'd be reading her newest novel right when it was released. I've loved her books in the past and couldn't wait to dig into this one as soon as my library hold came in, and overall I enjoyed the book quite a bit but was sad that it wasn't quite up to her usual standards of awesomeness.
I knew nothing about the novel before picking it up, and in the beginning I wasn't sure if this was a standard contemporary type novel or dystopian fiction. It took me a little bit to realize that it's (somewhat far-fetched and unbelievable) contemporary fiction with a thriller edge to it. I liked this side of Oliver and am hopeful that she writes more books like Panic.
What I liked about this novel was the pacing and the excitement of the story itself. I couldn't put the book down and it was truly an entertaining experience, every minute I spent with this story and these characters. Panic is very much a wild ride that keeps the reader guessing nonstop. I did like Heather and Dodge, although I had some minor issues with the ways that Oliver chose to construct Heather's character – some of her choices seemed a bit off based on other things we learn about her throughout the novel. But Oliver did sell me on her personality, I truly felt for Heather and her sad situation and hoped for things to turn around in her life.
What bothered me about this novel was how unbelievable it was – there is no way that this kind of game would be tolerated by parents and teachers and local authorities in the real world. Also, there's this element of the story that is supposed to be a huge secret that was entirely too obvious to me and, I assume, other readers.
But overall, Lauren Oliver never disappoints me with her writing and her storytelling and Panic was no different. While I didn't love everything about her newest novel, I was highly entertained and couldn't put the book down. Definitely recommended.