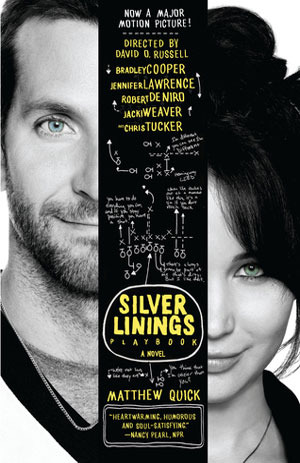 The Silver Linings Playbook by Matthew Quick
Published by Sarah Crichton Books
Pat Peoples has just gotten out of a mental health facility where he spent several years after an unnamed incident occurred. Pat doesn't know how long he was there or why he was there, but what he does know is that his goal is to get back together with his estranged wife, Nikki. Unfortunately, no one in his life will talk to him about Nikki, and he's being pursued by another woman, Tiffany. Also, everything has changed since he's been gone and he just can't figure out why.
This novel is so absolutely wonderful and quirky and sweet and a little sad but really just fantastic. I enjoyed every minute I spent inside Pat's head and Matthew Quick is an author I'm very intrigued by after having read this book.
I loved getting to know Pat, frustrating as he was. He was just so determined to get back together with Nikki even though it's obvious to everyone, including the reader, that this is an impossibility. Why this is impossible isn't quite clear, as Pat doesn't seem to recall himself what exactly happened that led to their separation. The fact that he doesn't know all the facts of his own life creates a tension-filled story, as the reader desperately wants to understand what happened, but only gets bits and pieces along the way as Pat's gaps in memory are slowly filled.
The supporting characters really give the book that extra push that it needed to be truly successful. Since Pat is such an unreliable narrator, we need these other characters to help him (and the reader) come to the full reality of his situation. Pat's mother and to a lesser degree, his father, his brother, his therapist, and his best friend, they all help him uncover the truth about his life and help get the reader to see it too. Tiffany, although also somewhat in the dark about Pat's past, sort of ties everything together as she has a past of her own that she's trying to heal from. I loved Pat and Tiffany together and as they got to know each other better, their two types of crazy just fit so well together. Theirs was a sweet relationship, one that worked so well because it was so incredibly flawed but so very, very human.
I listened to the audio of The Silver Linings Playbook, and narrator Ray Porter did an excellent job. The emotion in his voice was spot-on and in my head, he truly was Pat Peoples. I highly recommend the audio if you are going to read the book.
I did watch the movie, too, and I'm glad I waited until after I read the book because the movie is very different from the book. The basics are the same, but in the movie the big event that changed Pat's life is revealed at the very beginning of the movie, and in the book it's this big secret that the reader doesn't learn about until the very end. I HIGHLY recommend reading the book first if you're going to do both, because the movie would totally ruin the book for you otherwise (in my opinion of course). But the acting in the movie was, of course, fantastic, and I did enjoy the movie quite a bit.
The Silver Linings Playbook is a wonderfully sweet novel that really surprised me. I loved getting to know Pat Peoples and his story is one of forgiveness, redemption, and moving on in life when things don't quite go your way. I highly recommend the novel and I look forward to reading more from Matthew Quick.