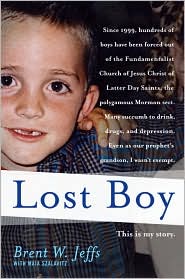 Title:  Lost Boy
Author:  Brent W. Jeffs with Maia Szalavitz
Published:  May 19, 2009
Page Count:  256
Genre:  Nonfiction, Memoir
My Rating:  3.5/5
In the polygamous Fundamentalist Church of Jesus Christ of Latter-day Saints (FLDS), girls can become valuable property as plural wives, but boys are expendable, even a liability. In this powerful and heartbreaking account, former FLDS member Brent Jeffs reveals both the terror and the love he experienced growing up on his prophet's compound—and the harsh exile existence that so many boys face once they have been expelled by the sect.

Brent Jeffs is the nephew of Warren Jeffs, the imprisoned leader of the FLDS. The son of a prominent family in the church, Brent could have grown up to have multiple wives of his own and significant power in the 10,000-strong community. But he knew that behind the group's pious public image—women in chaste dresses carrying babies on their hips—lay a much darker reality. So he walked away, and was the first to file a sexual-abuse lawsuit against his uncle. Now Brent shares his courageous story and that of many other young men who have become "lost boys" when they leave the FLDS, either by choice or by expulsion.

Brent experienced firsthand the absolute power that church leaders wield—the kind of power that corrupts and perverts those who will do anything to maintain it. Once young men no longer belong to the church, they are cast out into a world for which they are utterly unprepared. More often than not, they succumb to the temptations of alcohol and other drugs.

Tragically, Brent lost two of his brothers in this struggle, one to suicide, the other to overdose. In this book he shows that lost boys can triumph and that abuse and trauma can be overcome, and he hopes that readers will be inspired to help former FLDS members find their way in the world.
Polygamy has been in the news a LOT in the past few years.  You could even say it's a "hot topic" for the media – anything related to polygamy, be it reality or fiction, the media gobbles up, and in turn, the public does too.  No denial here – I am completely in this camp.  I am totally fascinated by the idea of polygamy and by the FLDS church (the most famous current example of polygamy in the U.S.).  Needless to say, I was thrilled when I was sent Lost Boy from the LibraryThing Early Reviewers Program.  I've read several memoirs by those few who have escaped the FLDS and lived to tell about it, and I was excited to read yet another one.
There were a lot of great things about this book.  First, Jeffs' story pulls you in from the beginning and the book is VERY hard to put down.  His accounts of what life was like in the FLDS church were fascinating to read about, and even though I had already read these same types of stories from two other perspectives, both perspectives were female so it was very interesting to hear about his life as a child from a male's point of view.  It was interesting to me that Jeffs questioned his family's lifestyle even as a child; since he had the benefit of a public school education for kindergarten he saw firsthand that his way of life was not exactly "normal" and so he started having independent thoughts about polygamy even as a little kid.  I was also fascinated by the dynamics of his immediate family, which was his father, his mother, and his father's other two wives (one of whom was also his aunt/mother's sister).  What was interesting was that since his parents had both been raised in the church, even Jeffs' mother was excited when the second wife (her sister) married his dad.  Everyone in the family truly believed in the principle, even when things got incredibly tough between the sisters conflict-wise, Brent's mother always believed that they were doing the right thing in the eyes of God by practicing polygamy.
Brent Jeffs' story is different from other polygamy memoirs because his family actually all left the church together.  Technically, they were declared apostates and forced out, but when Jeffs left the church he took his parents, brothers, and sisters all with him, unlike most individuals who leave the church.  This was interesting because even though his parents left the church, they still remained polygamous and their struggles living polygamy without the shelter of the FLDS were very interesting to read about.  Another thing that was different about Jeffs' memoir was that he really "outed" Warren Jeffs, his uncle and prophet of the FLDS church for several years before finally being arrested and given a very long sentence last year.  Warren Jeffs, in addition to his many crimes against the women and children in the FLDS, raped Brent Jeffs and many other boys for years when the boys were between the ages of five and seven.  In fact, Brent along with two of his brothers had repressed these memories for years because of how painful they were.  Brent himself didn't even recall the abuse until he was hypnotized in therapy as an adult.  Brent and his brothers were the main force behind getting Warren Jeffs caught and captured.  Because Jeffs' memoir is so new, there was a lot of information in the book about Warren Jeffs not previously revealed in other polygamy memoirs.
One aspect of this book really fell short for me, I have to admit, and that is the quality of the writing.  It seems that Jeffs had a co-writer, but even with her assistance, the book is not written all that well.  Jeffs wrote in a very conversational style, which was nice when reading the book – the reader really feels like he is telling him/her his story.  But, it's almost TOO conversational – some sentences don't make a lot of sense, there's a lot of slang and swear words, and tons of sentence fragments, run-on sentences, etc.  Personally, I don't normally pay too much attention to writing style, but it was starting to get in the way of my enjoyment of the book in this case.  I really feel bad for criticizing what was otherwise a pretty good book, but it stuck out so much to me that I feel compelled to mention it.
Generally, if you are interested in polygamy (as I know MANY of you are!) Lost Boy is well worth the read.  Brent Jeffs provides a new and interesting perspective to the story of the FLDS church and his story really needs to be heard.  I'm glad, for his sake and ours, that he had the opportunity to tell it.