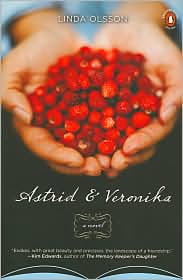 Title:  Astrid & Veronika
Author:  Linda Olsson
Published:  February 6, 2007
Page Count:  288
Genres:  Contemporary Fiction, Womens' Fiction
My Rating:  3/5
With extraordinary emotional power, Linda Olsson's stunningly well-crafted debut novel recounts the unusual and unexpected friendship that develops between two women. Veronika, a young writer, rents a house in a small Swedish village as she tries to come to terms with a recent tragedy while also finishing a novel. Her arrival is silently observed by Astrid, an older, reclusive neighbor who slowly becomes a presence in Veronika's life, offering comfort in the form of companionship and lovingly prepared home-cooked meals. Set against a haunting Swedish landscape, Astrid & Veronika is a lyrical and meditative novel of love and loss, and a story that will remain with readers long after the characters' secrets are revealed. 
Despite not loving Olsson's Sonata for Miriam when I read it a few months ago, I did love her beautiful writing and was intrigued enough by that to seek out a copy of this, her first novel, Astrid & Veronika.  The novel was, overall, somewhere along the range of okay to good.  I did like the book, and I was interested enough to keep turning its pages, but I wasn't thrilled.
Let's start with what I did like, shall we?  My favorite thing about the book was definitely the way that Olsson changed perspectives throughout.  The format of the book was like this: Astrid and Veronika's life in present day, told in third person, followed by a memory of Astrid's told in her first person point of view, then some present-day stuff, then a memory of Veronika's told in her first person point of view, etc.  It was a great way to tell these womens' stories, because I really got a feel for their relationship with one another while at the same time understanding each of their pasts, from their own perspectives.  The prose was pretty nice, too.  Olsson definitely has a way with words – the book was almost flowy, very descriptive and emotional, I really had a firm understanding of all the sights and smells and feelings the women were experiencing.
I did like reading about their relationship as it was developing, especially as it was kind of an unlikely pairing.  The women were about forty years apart (I'm guessing here, I can't remember if the book ever said their actual ages, but Astrid was an "old woman" and I think Veronika was thirty or so) and their life experiences were so different, yet they came to love one another so quickly.  They really formed almost like a mother-daughter bond, the kind that adult mothers and daughters always strive for but not many actually have in real life.  It was a beautiful way to tell the story of a beautiful friendship.
The main thing that I had a difficult time with in this book was that it was just really… really… really… slow.  I mean, this could just be me.  I could be the only one feeling this way, but so many times throughout the book I just wanted to skip the lush, flowing descriptions and get on with the story.  And for me, this took away from the book a lot because if I'm feeling impatient with a book I'll just put it down and go pick up another.  I did that with Astrid & Veronika way too often.  However, the story was compelling enough to keep me coming back at some point, so that's saying something.  Another thing that was odd to me was that some aspects of the story were not spelled out enough for me to understand what actually happened.  One scene in particular I really wanted more information.  It's entirely possible that I just missed something, but I really think that it was meant to be a little ambiguous and I was not okay with that.  I like clarity in books!  Showing not telling is great, but there are just some things that I need to be told.

Overall, a good book that lovers of great writing will definitely enjoy.  I also liked the story but there were some aspects that were less than perfect.  Still, Linda Olsson is a wonderful author and I will probably pick up her next book (if and when she writes another).
More reviews -